NEW:
Summer term starts 23rd April
Click on the Summer Courses link above for more details
Two new workshops
Jo Pickering is holding two workshops. On Monday April 9th she will be hosting a one day beginners painting workshop in acrylics. On Sunday April 15th she will be holding a portrait painting masterclass.
Note that this is a change to the originally advertised date.
Click on the Events page for more details.
An evening talk
A member of the Dorman Museum will be giving a free talk (reservation required) on Wednesday 13 June on Dr Christopher Dresser, one of the pioneers of design. Click on the Events link for more details.
The Bridge Centre for Visual Arts has gained charitable status and is now guaranteed a future AND a Bridge-based artist is celebrating 36 years of creating and teaching art in Darlington. You can help preserve this vital resource by making a donation via our Just Giving website: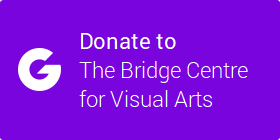 What We Do
Our Mission Statement: The Bridge provides a vibrant community led venue to support artists and encourage visual arts involvement for Darlington. Many artists who had a presence at the Arts Centre can now be found at the Bridge. It is also the home of other arts-based organisations.
The Bridge
Centre for Visual Arts
Yarm Road
Darlington
DL1 1ED
Opening hours are Monday to Friday 9am to 9pm and Saturdays 9:30am to 4:30pm.
We are a registered charity, number: 1170869
There are free car parking spaces in and around the Bridge and it is fully accessible. It is about a fifteen minute walk from the centre of town and a number of Arriva buses stop outside: 2, 3B and 12 (information provided by Arriva, May 2017 - please check before travel).