NEW:
Autumn Term
The Autumn Term begins on Monday 11th September: if you haven't already booked your place on a course, click on the Autumn Courses link above.
NEW: Today best known for his landscape painting, artist Paul Dillon is showing work from a career that covers more than 40 years and includes painting and graphic design from a diverse portfolio of subjects from science fiction and fantasy, steam engines, wildlife, punk album covers and event posters. In parallel with his work as an artist, Paul ran Darlington Media Workshop and is showing a selection of black and white photographs taken in and around Darlington Arts Centre in the 1980s and 90s.
This exhibition which had a preview at the Bridge earlier this year has had more examples of Paul's work added and a new set of limited edition prints added.
It will be opened at 5.30pm on Friday 10th November 10th the Art Gallery in Crown Street Darlington, all welcome to attend.
The Bridge Centre for Visual Arts has gained charitable status and is now guaranteed a future AND a Bridge-based artist is celebrating 36 years of creating and teaching art in Darlington. You can help preserve this vital resource by making a donation via our Just Giving website: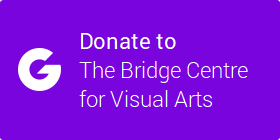 What We Do
Our Mission Statement: The Bridge provides a vibrant community led venue to support artists and encourage visual arts involvement for Darlington. Many artists who had a presence at the Arts Centre can now be found at the Bridge. It is also the home of other arts-based organisations.
The Bridge
Centre for Visual Arts
Yarm Road
Darlington
DL1 1ED
Opening hours are Monday to Friday 9am to 9pm and Saturdays 9:30am to 4:30pm.
We are a registered charity, number: 1170869
There are free car parking spaces in and around the Bridge and it is fully accessible. It is about a fifteen minute walk from the centre of town and a number of Arriva buses stop outside: 2, 3B and 12 (information provided by Arriva, May 2017 - please check before travel).